Triple Crown rider honored
March 17, 2005 by Ron Hoffman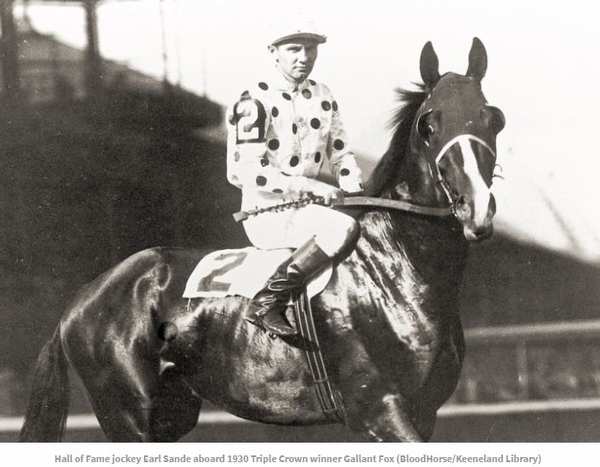 It's been 75 years since Groton native Earl Sande rode Gallant Fox across the finish line to win the second ever Triple Crown. Lawmakers from the jockey's home state honored him last week with a commemoration on the floor of the South Dakota House. In 1930, Sande won the Kentucky Derby, the Preakness Stakes and the Belmont Stakes to earn the Triple Crown. Sande is one of only 10 jockeys to accomplish the feat. Sande's story will hit the bookshelves in May with the official release of Richard J. Maturi's "Triple Crown Winner: The Earl Sande Story," timed to coincide with this year's Kentucky Derby. Sande's immigrant parents settled in the Groton area with no money or possessions. In 1908, when Sande was 9 years old, his parents moved from Groton to Idaho. And as Sande grew older he made his way east and became one of horse racing's top jockeys. His list of accomplishments includes five Belmont Stakes wins and three Kentucky Derby wins. He was a member of the first class inducted into horse racing's hall of fame. Maturi, of Cheyenne, Wyo., traveled to Pierre to attend Thursday's commemoration. Maturi says he hopes the book is made into a movie. Sande's feats are grand, but Maturi says there are other things about Sande that are impressive. He says Sande never whipped his horses and would often sing to them while riding. Sande's Triple Crown run nearly didn't happen. In 1924, he fell from his horse during a race and was nearly killed. When that happened, Sande said he was finished racing. But he returned a year later to win the Kentucky Derby. In 1953, at age 54, Sande beat Eddie Arcaro in what proved to be Sande's final race. Arcaro is the only jockey to have won two Triple Crowns.
Posted in: General
---
Reader Comments
0 Comments on Triple Crown rider honored
Would you like to comment?