Larry Jacobson receives Bronko Nagurski Legends Award
December 17, 2012 by Ron Hoffman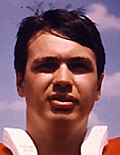 South Dakota Sports Hall of Famer Larry Jacobson, a former O'Gorman High and University of Nebraska football standout, in early December received the Bronko Nagurski Legends Award, which recognizes outstanding college players from the past 40 years. Jacobson won the Outland Trophy as the nation's top interior lineman in 1971.
Here is an excerpt from Randy York's N-Sider Blog regarding the award presentation
A star defensive tackle on Nebraska's back-to-back national championship teams in 1970 and 1971. Jacobson was a pioneer for the Huskers. He was an All-American, an Academic All-American, a first-round NFL draft choice and a trailblazer for all who followed his lead, including Ndamukong Suh, who shared those same accolades and went beyond, including winning his own Nagurski trophy immediately (not the Legends award).
Jacobson is quick to point out that every honor that came his way "wouldn't have been possible without the exceptionally talented players who were my teammates and the icons who were our coaches," he said. "I mean, I played with Johnny Rodgers, who won the Heisman, and played right next to Rich Glover, who won the Outland, plus a Lombardi (the next year)."
On the Same Staff: Devaney, Kiffin, Alvarez, Osborne
"We had such coaches as Bob Devaney, Monte Kiffin, Barry Alvarez and Tom Osborne – all on the same staff!" Jacobson said. "Just last year, Sporting News magazine named our 1971 team college football's best of all time. Twenty-five players on that team went on to play in the NFL, and you have to remember there weren't nearly as many pro teams then as there is now."
In Jacobson's era, the Big Eight was the nation's most powerful conference. "In 1971, we finished first in the final poll, Oklahoma second and Colorado third," he pointed out. "We had three shutouts in '71 and only three teams scored more than one touchdown against us while we were scoring from 31 to 55 points every game. The only game we trailed in all season was against Oklahoma, and we're still proud about that game being routinely referred to as the Game of the Century.
"I'm often asked what I remember most," Jacobson said. "For me, it's my teammates, and they're also what I miss the most. Over the years, I've come to sincerely appreciate the bond we developed as we played together in the trenches. We picked each other up and were determined not to let anyone beat us. It's all about working together toward a goal – to be the best in the nation – that I cherish the most. In the past few years, when I've had the opportunity to be on the sidelines, it brings back just how hard players have to work and how much they have sacrifice to get to the top."
Posted in: General
---
Reader Comments
0 Comments on Larry Jacobson receives Bronko Nagurski Legends Award
Would you like to comment?