American hero among 23 inducted in Class of 2023
September 12, 2023 by John Papendick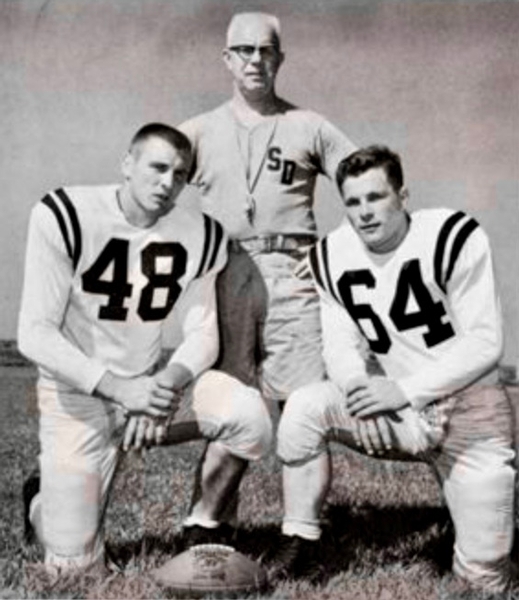 In 1961, the SDSU football team was led by coach Ralph Ginn and captains Joe Thorne (48) and Mike Sterner.
By John Papendick
South Dakota Sports Hall of Fame
Strong, quick and focused Joe Thorne was an American hero and a South Dakota football legend.
Plus, a great guy, said those who knew Thorne, a happy-go-lucky kind of guy. The kind of guy who had a lot of energy and the kind of guy who gave it away to those around him every day. The kind of guy who was a leader by his respectful silence, thankful attitude, passionate intensity and humble actions.
In Vietnam on April 18, 1965, two U.S. Army helicopters — Thorne was piloting one of them — were shot down on Easter Sunday. Nine American soldiers were killed, including Thorne at age 24. U.S. troops had landed in Vietnam only 41 days before, and Thorne was the first South Dakotan to die in the Vietnam War. His name holds the 21st place on the Vietnam Memorial in Washington, D.C.
His first assignment was to fly mail and VIPs around. Thorne quickly volunteered to fly assault helicopters.
He loved his country, and he wanted to get into the game.
23 INDUCTED
Thorne will be one of 23 inducted into the South Dakota Sports Hall of Fame on Sept. 24 at the Sioux Falls Convention Center (old SF Arena). Purchase tickets at sdshof.com. The hall, established in 1968 by the state's sportswriters and now run by volunteers, has enshrined 359 women and men from every sport and corner of the state.
Also to be inducted this month will be South Dakota State's Brad Seely, Dave Mydland, Terry Nielsen, Don Larson, Lien Marso (1932-2016), Mike Roach (1942-2020) and Harvey Hammrich (1934-2021); University of South Dakota's Chuck Iverson and USD-Springfield's Marlyn Goldhammer and Don Baker (1933-1974); Dakota State's Linda Collignon; Black Hills State's Gene Breemes (1926-1982); University of Sioux Falls' Clarence Kooistra, Northern State's Scott Bosanko and Jim Schlekeway; Dakota Wesleyan's Jerry Miller, and Augustana's Bryan Schwartz.
Finally, others to be inducted will be one of the state's greatest runners in Cheyenne-Eagle Butte's Jeff Turning Heart; the state's winningest girls' basketball coach in Aberdeen's Dawn Seiler; Dakota News Now sports director Mark Ovenden whose first South Dakota broadcast was on Sept. 11, 1978; former Mitchell sportswriter Dean Minder (1927-2018); and world champion cowgirl and trick rider Mattie Goff Newcombe (1906-2005).
THORNE'S STORY
Thorne was a young athlete with great potential at Gettysburg, and then an all-state multi-sport star at Beresford where he moved with his family at the start of his junior year in high school. Born in International Falls on Nov. 17, 1940, to Mel and Mary Jane Thorne, Thorne lived in Clark and a couple of other small towns with his family before spending most of his childhood in Gettysburg.
In 1956, the Thorne family moved to Beresford. With Joe and his younger brother, Roy, the enrollment at Beresford High School raised to 204 students; meanwhile, the enrollment at Gettysburg High School dropped to 202 students. As a result, Beresford became the 32nd biggest high school in the state and moved to Class A in basketball. Had the Thornes stayed in Gettysburg, the Battlers would have moved up to Class A instead.
At Beresford, Joe Thorne led Beresford to a share of the 1956 Big Eight Conference football title with a 7-0-1 record and a No. 2 ranking in the state. In 1958, Thorne led Beresford to the State A Basketball Tournament. To get there, Beresford beat Yankton 49-48. In one of his books, South Dakotan and famous NBC newsman Tom Brokaw wrote that he remembered Thorne as "that tenacious guard who kept me (and my Yankton Bucks) from the state tournament my senior year."
Not only was Thorne an all-state basketball and football player, he also was a standout track hurdler and jumper for the Beresford Watchdogs.
At South Dakota State, he became an All-American fullback who also impacted many games from his linebacker spot. In 1961 as an SDSU senior and football team co-captain, Thorne led the 8-2 Jacks to a share of the North Central Conference title as the conference MVP.
While at SDSU, Thorne rushed for 2,158 yards and 21 touchdowns in his three seasons with the Jackrabbits. Thorne first played basketball at SDSU, making the Jacks' freshman basketball team (15 players chosen out of the 62 who tried out) and was one of the team's best players. Long-time successful SDSU football coach Ralph Ginn called Thorne the best fullback he had in his 22 seasons with the Jackrabbits.
Thorne was a 12th round draft pick of the reigning NFL champion Green Bay Packers. He attended an early-summer mini-camp for rookies. He made such a good impression; he was listed on the Packers' roster coach Vince Lombardi provided to Green Bay newspapers before the start of fall camp.
When Thorn didn't show up for fall camp, Lombardi called the Thorne household. On the call, Lombardi was informed that Thorne had not gone to college to learn how to play football and that he had more important things on his life's agenda. Thorne had enrolled in ROTC at SDSU, and he planned to fulfill his ROTC pledge to serve his country after graduating.
Lombardi understood, and told Thorne to contact him after he finished his military duty.
But as it does so often, life took a different turn. When news of Thorne's death was announced, the entire state of South Dakota seemed to go into mourning. And that mourning continued as the deaths mounted.
The story of Thorne's sacrifice was told in newspapers across the state and the nation. Left to mourn were his family members: wife Diane (Hover, a Clear Lake native) and their 3-year-old son Travis; his parents; brothers Roy, Tim and Tracy; sisters Julie and Jeanne; and others. First Lt. Josef "Joe" L. Thorne was awarded posthumously the Purple Heart, the Air Medal, the Armed Forces Expeditionary Medal and the Oak Leaf Cluster V Medal for valor.
A football hero and an American legend.
Bridgewater native John Papendick is a former, long-time sports editor at South Dakota newspapers, including a 30-year stint at the Aberdeen American News. He continues to write daily about all things South Dakota.