Jim Scherr named USOC CEO
May 02, 2005 by Ron Hoffman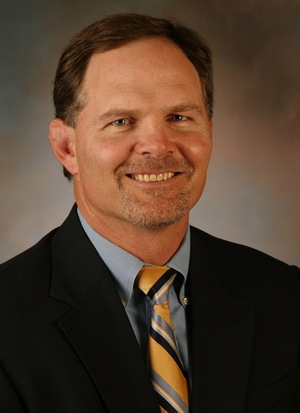 PHOENIX ? The U.S. Olympic Committee?s board of directors removed the "interim" title from chief executive officer Jim Scherr on Friday. The 1980 Mobridge High grad and former Olympic wrestler will lead the rehabilitated and remodeled organization into the Turin Winter Games next February and the Beijing Games in the summer of 2008. USOC president Peter Ueberroth said an unspecified pay raise will go along with the move. Ueberroth said Scherr?s selection was unanimously approved by the 11-member board and was followed by a standing ovation from all those present at its lengthy afternoon meeting at a Phoenix resort. "I am awed and humbled by the task ahead," Scherr said at a press briefing that followed the closed board session. The meeting came in the opening session of the two-day USOC Assembly, a first of its kind gathering of USOC board members and officials, along with leaders of the governing bodies of all Olympic sports. Scherr, who has a master?s degree from Northwestern, was chosen as interim CEO in 2003, when the USOC was shaken by accusations of ethics violations and other problems in management. His appointment followed Senate hearings and the resignation of president Marty Mankamyer and CEO Lloyd Ward. "He basically was a crisis manager and led us through the 2004 Olympic Games," Ueberroth said of Scherr. Under Scherr?s leadership, the USOC reduced its work force from 365 to 284 in an attempt to make more money available to athletes. The challenges ahead, Scherr said, include continuing to strengthen the USOC staff and the entire system of sports federations and emphasizing the relevance of a strong Olympic movement in this country. The other challenge, he said, is the fight against athletes? use of performance-enhancing drugs. "Doping is a significant challenge, and that alone can erode everything we do," Scherr said. "We must continue to be a leader in the fight against doping in sport." Scherr, a 1980 Mobridge High grab, won two silver medals and a bronze in world championship freestyle wrestling competition, and was fifth at the Seoul Olympics in 1988. He was executive director of USA Wrestling from 1990 to 2000. Under his leadership, the United States won eight medals in the sport at the Atlanta Games of 1996. He joined the USOC staff as senior managing director for sport resources in 2000, then was promoted to chief of sport performance until he was asked to take over day-to-day responsibilities of the Colorado Springs, Colo.,-based USOC in March of 2003.
Posted in: General
---
Reader Comments
0 Comments on Jim Scherr named USOC CEO
Would you like to comment?